Now you have registered your shop, you can activate and set up your collection of points.
Create your collection of points
Type in the value a point per Euro (the easiest way is to set the value: 1 point = 1 Euro, though is not the best for certain activities)
and the prize description (what it is and the amount of the points to reach it).
Specificate also the duration of this collection.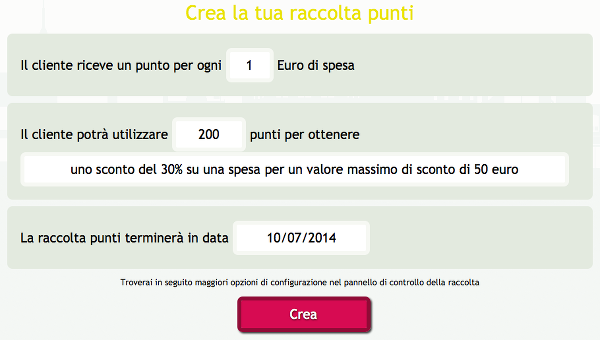 The screen shot above is just an example. You can always edit and complete as you prefer your guideline by the management menu.
You can also change the typology of the collection.
The standard collection is the purchase value, that means giving points depending on the purchase value.
The other ways are: giving one point per purchase apart from the purchase value (using a voucher) and assigning or taking off points as you prefer without an automatic conversion.
Video tutorial
Some examples of collections of points
Next step: Stampa il poster